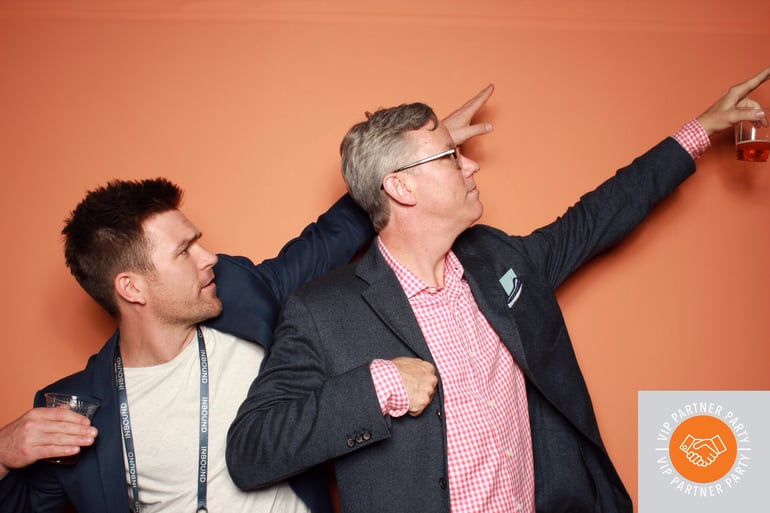 Image: Charles McKay CEO Synx, and Brian Halligan CEO HubSpot.

It was September 2015. Synx had just become a HubSpot partner and I was embarking on an event in Boston called Inbound. We were clientless and I was still figuring out what I was doing. What I did have was a vision. So much hype had been set by HubSpot and I was looking forward to the US trip. Luckily, a few good buddies of mine were attending: Phil Claxton and Chris Day from IT Glue, and a good friend I had been working with at HubSpot, Clodagh Higgins.

---
I was embarking on a massive career change; closing down my IT company and moving into the online sales and marketing world. Having seen the evolution from desktop software to cloud-based platforms, I knew I was in for a challenge, but I also knew that it was early days and Synx had time to get ahead of the game.
Day one of Inbound kicks off with a full agenda of sessions. Boy, did I get brain fried! So much content flew at me. I felt a little overwhelmed. Like, WTF did I get myself into?
I learned a lot more about my friends, Chris and Phil. It was great to see how they operate. They are great humans and I'm privileged to know them.
Skip forward for a moment – how has Inbound and HubSpot helped IT Glue? Over the past 12 months, they've grown from eight staff to over 65; from a couple hundred clients to over 2000. They won just about every IT award in the MSP space for the year. Something at Inbound must have clicked for them as it did for me.
Video: Pumped that my video was played at Inbound 2016.
There is so much noise today and it's only getting noisier. When I started my career, I had a PC, Microsoft Office, a CRM/Service tool, and a Nokia (remember snake?).
These are the tools I now use daily (on a Mac):
Xero, HubSpot, Zaiper, Slack, Whatsapp, Skype, Evernote, Dial Pad, Google apps, Redbooth, Lucid Charts, Fathom, Google Analyics, SimilarWeb, Webmaster Tools, Wistia, Drift, Spotify, Facebook, Zoom, Redbooth, and many others.
And on my phone: Text messages, email, Xero, Facebook, Instagram, Snapchat, Whatsapp, Dial Pad, camera, Skype ok, and again – many others.
What does this mean to you?
Change is happening
Change is happening faster than ever before, and now as the younger generation move into business, they accept chance, and are happy to embrace it.
I challenge every business out there to put a millenial on the board or in the senior management team and actually listen to them. They can help change your business for the better. If you don't adopt change, you will be disrupted.
Set up a distruption team
I love the idea of setting up an internal business within a business to poke holes in the business and see where opportunities lie, uncover gaps, and find ways to become more profitable. Here are some examples I see all the time…
Look deep inside your business
Huge admin overheads with manual processes: Find a system that will do the admin work for you. Partner with a business like Beepo, which has over 500 offshore staff. It lowers your costs, your staff can be engaged in work that motivates them, and chances are, the people doing your admin work are much more grateful for the opportunity.
No grasp on what funnels of the business work: From digital and online, to people-based sales teams and offline, I ask the question, "what is the cost per sale for your business?" This is not just your revenue for the year or your sales target. Revenue is one thing. Existing business sales is another and new business sales is another. Do you know the cost for each channel and what the process is for each?
Business is not on the same page: The senior team is not sharing the vision with the business. Share it all and become transparent with your team. Review your core values and get everyone going in the one direction. For me, the biggest game changer is a book called Traction. It's simple (and in a way it seems too easy), but that's the way it should be. Every complex problem can be uncomplicated if you apply logic to it. Transparent working environments are the key. The businesses I've seen grow quickly over the past few years live by core values based on transparency and empowering environments.
Stop reporting, start pulsing: Having worked in heavily reported environments in my previous lives, I've found reports to be killers. 1) They take so long to put together, and if you have a non-integrated system, have fun in Excel. 2) No one actually reads them, which results in no action taken. It's time to start pulsing or using online dashboards, so the data is live and you can look at it whenever you want. Obviously, have a monthly board report or management report, but individual department reports? I find these a waste of time and a waste of overheads to produce them.
There is no silver bullet: Growing up on a farm, I've learned to be patient. On a farm, you build a farm map, then you plan on how each part of the farm will be farmed, you then plan to plant a crop, the crop grows and you may have to do a variety of things throughout the year to get the yield you want. It's the same with a business. Put a long-term plan in place, but does it have to be concrete? Not at all. It's going to move a lot along the way. It's all about how quickly you can move on your feet and make decisions. When it comes to marketing, there is no silver bullet. It's hard work that will pay off in the end. When you hear of those overnight success stories, there's generally 20 years of work that's gone into them.
Don't over complicate.
Stop building empires: Outsourcing is an epic way to grow quickly. There is always a tipping point for when to insource, but if you're a IT company, do IT. If you're a building company BUILD. Why would you bring additional services in house when you have no idea about them? It's hard to get good talent (and they will leave if the environment isn't stimulating). Take creative fields (design, copywriting, marketing) – let companies that specialise in these things deliver a service to you. They provide the environments and cultures needed to keep their staff engaged.
Inbound 2015 to 2016
Not long ago, I arrived back from Inbound 2016. What changed in a year for me? This year I discovered what I'm good at (and what I'm not good at), which led me to knowing my core values. I spent a lot of 2015 and 2016 meeting new people all over the world. In the HubSpot ecosystem, it has been amazing to be able to connect with people face to face.
If you're going to an event in the next 12 months, watch this clip: Tim Ferriss: How to Rock SXSW in 4 Hours | Interactive 2015 | SXSW. The content is great at all these types of events. The tech is great and the parties are great, but it really comes down to the people you meet. Who is the one person want to meet who could change your life?
So Inbound 2016 for me was all about this. I went to only two breakout sessions this year by up-and-coming companies creating meaningful change in the industry. I met one amazing woman who has well and truly changed the world already, and is going to make a big difference in the way busiesses work around the world – and it's not by building another tech platform, so watch this space.
I will say it was epic to see Gary Vee in person as well. His message was simply to become self-aware.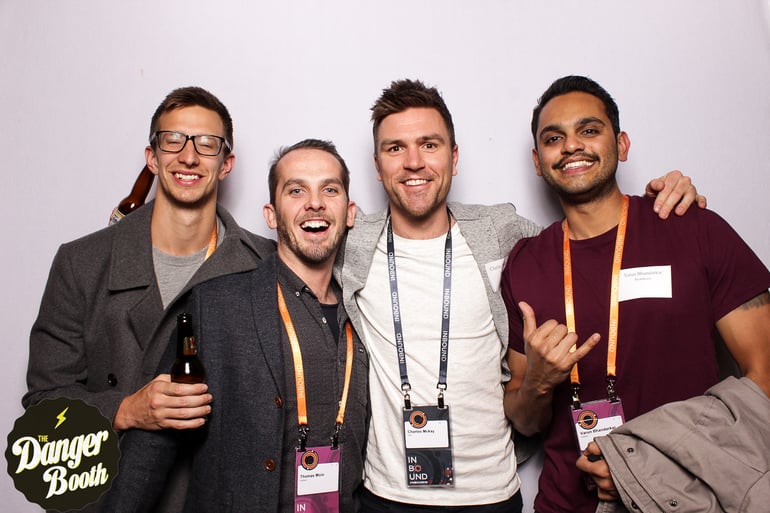 Image: Brent Claremont, Thomas Moin, Charles McKay and Varun Bhandarkar at the international partner party in Inbound.
So the differences in how I approached Inbound 2015 to 2016 was massive for me. As you evolve, I'm sure you could go to the same event 15 times and you would get different things out of it. Attending the HubSpot Agency Partner keynote was eye-opening. It was cool to see so many agencies in the room all on their own journey.
It has been a big year for me and the team. I'm excited to say that we are now the Number one rated HubSpot agency in Australia, (one of three that are platinum level). Like many entrepreneurs, I came from a place with no clients and we are well on the way to becoming one of the most successful HubSpot partners in the world because we challenge the 'standard way'. If you want to join our team on this journey, we are always on the lookout for great talent – check out our careers page.
Personally I want to thank everyone that has been on the Journey with us, all of our awesome clients, amazing suppliers and partners I want to say thanks.
If you would like to talk to me about how we can help your business evolve in 2017, book a time with me now.

Thank you to @HubSpot for our Platinum award.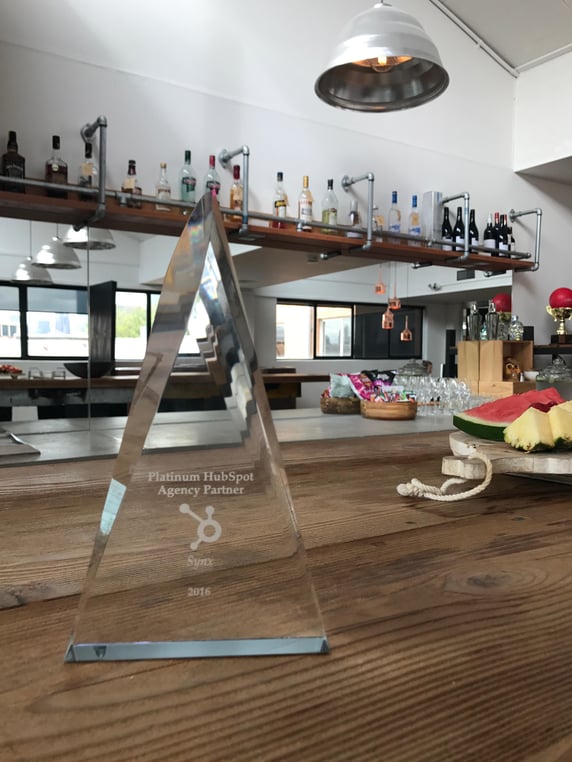 Are you ready to make a change in your organisation? Book a time to talk with me today.
---