INTRODUCTION:
We are pleased to welcome Melbourne-area MSPs and IT Service providers to join us for an exclusive learning event at Circa on Tuesday, October 20th from 2:00 PM to 7:00 PM.
MSP focussed software companies including IT Glue, BVoIP, Wise-Sync, DeskDirector and Synx, will be providing real-world learning from their interactions with MSPs around the world. The presentations start at 2:30 PM, followed by questions and casual networking.
Come ready to learn and network, leave with proven ideas you will be able to action right away to help your business succeed.
One ticket per registered attendee. If you have more than one from your team wanting to attend, just share the meeting link.
if your just starting out on your next venture or an experienced MSP you will take away some tips that will help your business.
Are you attracting ideal clients
Why you must scribe
How automation can save you time and resources
Customer delight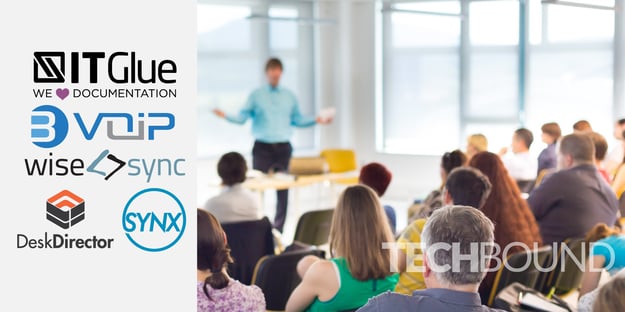 ---
Some Information on the speakers - Partners

Chrs Day CEO - IT GLue
After more than 12 years of growing Fully Managed™ into one of Canada's largest and most successful Managed Services Providers (MSPs), Chris Day founded IT Glue with the vision of profoundly changing the way people create, manage and interact with IT documentation. Chris speaks regularly on behalf of Microsoft and other key strategic partners at leading technology conferences throughout North America and was instrumental in helping Fully Managed achieve Alberta's Best Workplaces (Overall Category) in 2013 and Best Employer in BC in 2014. Chris is also a recent recipient of the Top Forty under 40 award in 2013 in Vancouver.
Phil Claxton - DeskDirector
We believe customer experience will be the key competitive battleground among all software, services and technology companies over the next ten years. DeskDirector's mission is to change customer service forever by bring all the information your customer service staff need into one place and providing a platform for customer experience innovation.

What makes our partners eyes light up is the easy to use and scalable customer experience that reduces complexity, makes their staff look great and helps them become easier to love.

The Big Telco & IT companies invest millions and millions of dollars in their customer service systems and portals with mixed results, for everyone else there will be DeskDirector.
Paul Macneill - Wise-Sync
Wise-Sync provides business data synchronisation between ConnectWise PSA and Xero Accounting Software. Developed based on VirageIT's desire to move to Xero from MYOB, Wise-Sync was a first to market solution to deliver on this requirement. Wise-Sync was the first certified Xero Add-on and is currently the only xero certified add-on listed on the ConnectWise marketplace.

Wise-Sync's commitment to continued improvement will position itself as one of the most detailed integrations for ConnectWise PSA Accounting Data. Coupled with Xero's beautiful interface, all ConnectWise users will benefit from the ability to rely on more accurate and up-to-the-minute financial data in both systems.
Charles McKay - Synx
Charles McKay is founder and CEO of SYNX, a B2B digital marketing agency based in Australia, focusing our work on Marketing Automation, Demand Generation, Lead Generation and Social Selling.
Charles built a very successful I.T. Business from the ground up prior to SYNX. Bringing advanced technology skills to digital marketing, and the ability to explain it simply to his customers, is allowing SYNX to stand out in an overcrowded under-educated market.
---
Evaluate Your Organisations Inbound Readiness, Strengths and Weaknesses!
Take our

Growth Health Check

and see your business's current digital strategy state of play across the entire customer journey.
---